Does the 2019 Jetta have a turbo?
By Product Expert | Posted in FAQs, VW Jetta on Friday, February 21st, 2020 at 5:11 pm
2019 Volkswagen Jetta Engine and Performance
The 2019 Volkswagen Jetta has been cleaning up recently in regards to automotive esteem. Kelley Blue Book named it both a "10 Coolest New Car Under $20,000," as well as a "10 Best Sedan Under $30,000." But what lies under the hood? Does the 2019 Volkswagen Jetta come with a turbocharged engine?
---
---
Yes, the 2019 Volkswagen Jetta comes standard with a 1.4-liter turbocharged engine, producing 184 pound-feet of torque and 147 horsepower. The engine is rated to travel 30 miles-per-gallon of gas in the city and 40 on the highway. In fact, almost every Volkswagen vehicle has come equipped with a standard turbocharged engine since 2014.
 As a side note, we recommend the video under the Performance section of the official VW website page for the 2019 Jetta. You'll see a Jetta cruise in a vaguely virtual environment as it literally rips the pavement of the track up into the air, leaving a satisfying curlicue pattern in its wake.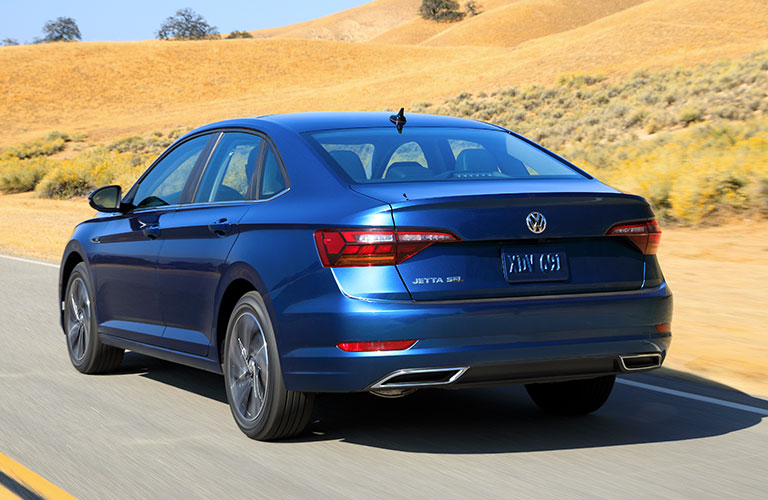 Available Improved Cornering Ability
The performance of the 2019 Volkswagen Jetta can be improved with the addition of a gizmo known as Cross Differential System XDS®, available on the R-Line trim. This system has the ability to apply braking pressure inside the front wheel during turns, when needed. The result is an enhanced ability of the 2019 Jetta to corner accurately.
17" Alloy Wheels
If you'd like a more performance-oriented look on your 2019 Jetta, we recommend the available 17" alloy wheels. Volkswagen describes the flashy rollers as blending perfectly with the "lean, sculpted look of the 2019 Jetta."
Multiple Driving Modes
The 2019 Volkswagen Jetta also offers a Driving Mode Selection system. When equipped, users can choose from four different driving modes: Eco, Normal, Sport and Custom. Each is said to bring the vehicle a unique feel and response to its maneuvering style. This set-up is a great way to add some variety to your drive or optimize it for whatever situation you find yourself in.